How to import an existing site on HardyPress
You can choose to use our FTP importer, or if you don't want to leak your FTP credentials, you can install All-in-One WP Migration plugin® a top-rated trusted plugin (600,000+ active installs)
Use All-in-One WP Migration plugin® (recommended method)
On your live existing website install All-in-One WP Migration plugin® and activate it.
Click on "All-in-One WP Migration" on your sidebar
Click to "EXPORT TO" and select "FILE".
The plugin will now generate a full backup of your website. It can take some minute for large website.
One done right-click on the green download button and select "Copy link address"
Past the URL of the generated backup on our importer.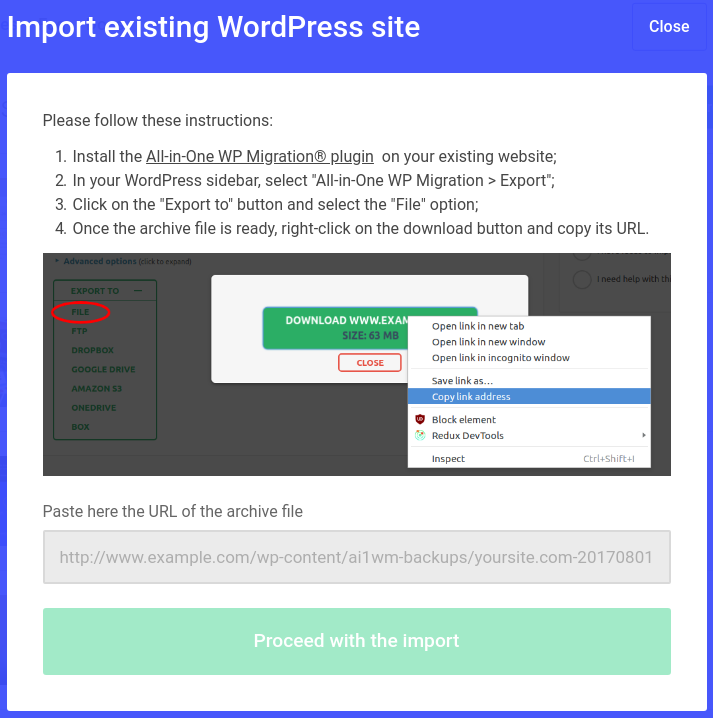 Use the FTP importer
Use the FTP importer is not recommended because of the slowness of the protocol and because you need to leak your FTP credential, but in same cases can be useful.
Once you log-in click "Import an existing site". You will be asked to enter the following fields:
URL of the WordPress website to import: this is the URL where your actual website lives. HardyPress can automatically import only websites that are public reachable.
Host: the hostname of your FTP server
Port: the port of your FTP server
Username: your FTP username
Password: your FTP password
Path: the folder where your WordPress files are stored
You can now click on "Proceed with the import" button.
We will try to connect to your FTP server and we will check if a WordPress installation exists. If everything is OK we will start copying the files to our servers. We will also import the database seamlessly. The time needed for the import depends on the size of your website. It can take few minutes to some hours for sites of several GB.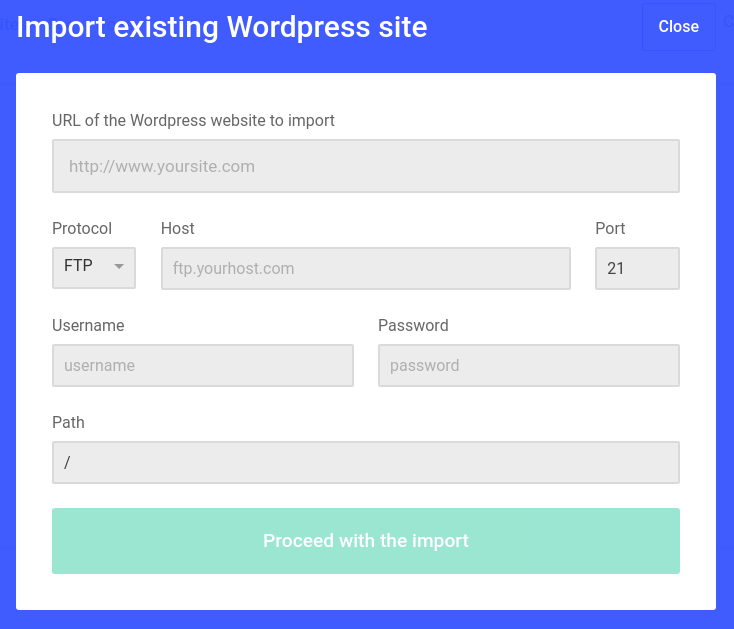 Wait for the site to be reviewed by our staff
After the import complete, your website will be manually reviewed by our staff to check for any importing issues. The whole review process will usually take less than a working day.
After the import, a static version is automatically generated and deployed on our CDN with 30 SSD servers around the globe.
This static version stays online even if your WordPress is turned off and is always reachable through an HardyPress subdomain like https://xxxxxxxxxxx.site.hardypress.com  but you can use your own domain if you prefer, just follow our guide.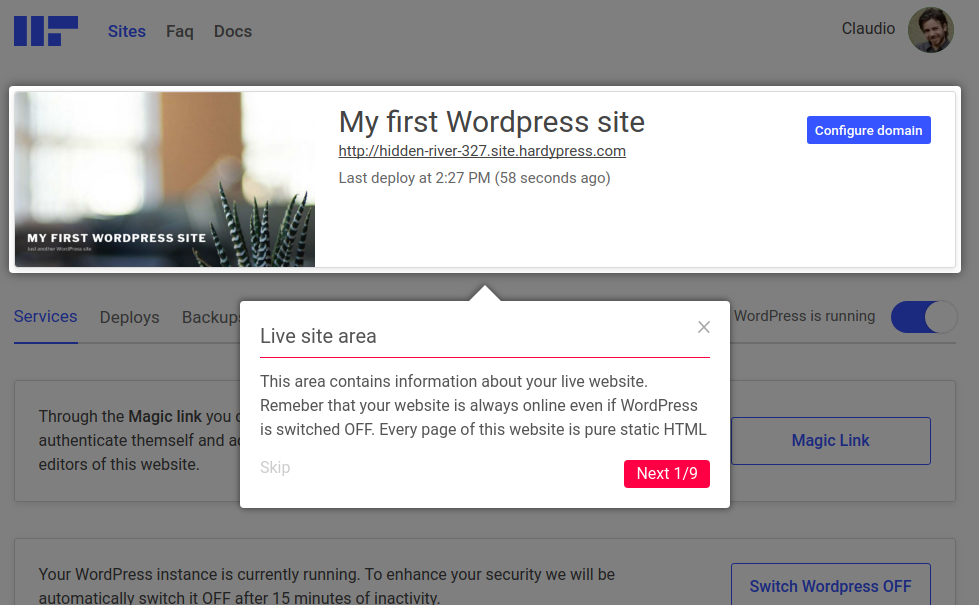 Your WordPress can be paused/restored on demand.
You can bring your WordPress to life or to put it to sleep with just a click. When it is turned on your WordPress is reachable through an HardyPress subdomain, something like: https://xxxxxxxxxxx-admin.hardypress.com. When it is turned off it simply doesn't exists (no DB, no PHP, nothing at all), so you can sleep well at night.